USALearning will help your government organization with your learning, training, and education needs.
Are you new to USALearning services and processes? USALearning assists with your learning, training and education needs for your government organization. With learning industry experts that have a combined +100 years experience, the USALearning team can help with as much or as little as you need. The agency has seasoned account managers who can assist in every step of the process, from the beginning to the end of the life of your project. Using the Department of Treasury approved Interagency Agreements (IAAs), upon your approval of proposal, USALearning assists with developing the IAA and if you are in Department of Defense (DoD) the MIPR for transfer of funds.  
The USALearning assisted acquisition fee covers:
Domain Expertise: Experienced senior level learning domain experts
Acquisition: Issue task orders based on customer requirements, provide contract administration through closeout
Management: Provide COR responsibilities to include oversight, financial, schedule, progress reports, and deliverable review and acceptance
Technical: Track project tasks in accordance with task order 
Scope: Address any changes to project timeline, deliverables, costs and requirements
Deliverables: Review signed Deliverable/Financial Receipt Form (DRF) and invoice approval certifying payment
---
Learn about how USALearning supports each type of customer:
Department of Defense
As part of its Enterprise Digital Learning Modernization reform, the Department of Defense entered into a partnership with the Office of Personnel Management. In March 2019, the two agencies signed a memorandum of agreement involving the use of USALearning. Through USALearning, the Office of Personnel Management agreed to provide: "Rapid, agile, and responsive assisted acquisition and related technical support services that enable the acquisition of learning hardware, software, courseware, and other externally procured training and associated services at a speed and quality that meets or exceeds status quo DoD contracting." In April 2019, the Defense Department's Chief Management Officer subsequently issued a memo directing all Defense Components to participate in this reform. In April 2020, the Chief Management Officer issued further guidance, extending the original direction and further outlining the process for submitting requirements to USALearning—through this USALearning Project Portal. For more information about the USALearning assisted acquisition process, as it applies to Defense organizations, refer to the USALearning Assisted Acquisition for Training and Education Guide.
For more information refer to the information located in this link: https://cmo.defense.gov/Resources/Enterprise-Digital-Learning-Modernization/
To create a new project request, please go to this link and create a new account on the USALEARNING PROJECT TRACKER; or if you have questions in general, use the contact page and request through the form tool or via email. 
Federal, State, and Local Government Customers
Whether you are a federal, state, or local government organization, USALearning will assist you as a new agency customer. No two requirements are the same, but we serve all levels of government and their agencies. Please use the contact form to request more information.
Government Contractors
USALearning supports all US Government, including Federal, State, and Local government offices. We request Contractors who have questions on behalf of a government customers to have their sponsoring agency reach out to us directly.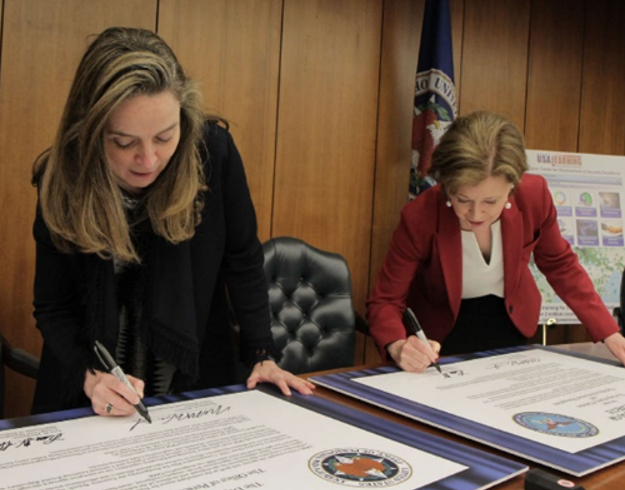 ---
Play the video below to learn more about USALearning and what customers are saying about the team: